Ganoderma Treatment in Southlake, TX.
Does your stately tree have large mushroom-like structures around its baseline? Those structures indicate Ganoderma infection. This tree disease is extremely serious. Contact us here at Truly Arbor Care and schedule a free consultation with our ISA certified arborist. Ganoderma Treatment in Southlake, TX, call (817) 697-2884 for an Ganoderma diagnosing!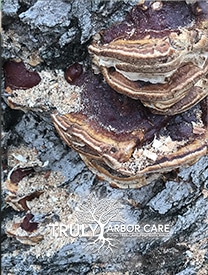 Ganoderma Treatment? Call Truly Arbor Care of Southlake!
Diagnosing Ganoderma Disease
Experienced plant pathologists consider Ganoderma to be the most dangerous fungal plague infecting trees. This highly-complex fungal tree destroyer is comprised of more than three hundred fungal species and is also known as heart rot because it literally destroys a tree from the inside out. Large mushroom-like structures appear along the base of the tree and can measure up to 24 inches in diameter. These contain millions of spores and are the only visible indications of this lethal disease. The spores spread rapidly by wind and rain and can not only infect your entire outdoor grounds but can spread throughout your entire neighborhood.

Ganoderma targets damaged roots and can cause a tree to topple over and endanger life and property. There is no cure for this dangerous, destructive tree nemesis; therefore, it is extremely important to contact the best arborist in Southlake, Texas if you notice mushroom-shaped structures around your tree or observe that your tree has premature defoliation, dead branches or dieback. Infected trees must immediately be removed and destroyed by a professional tree removal service to protect yourself and your residential habitat. Preventing wounding to your trees is essential and all regular lawn maintenance and planting should be performed by arbor care professional. Entrusting the care of your trees and your residential outdoor habitat to a tree expert is the surest way to prevent Ganoderma from destroying your outdoor grounds and residence.
Treatment Of Ganoderma
Family owned and locally operated, our highly-experienced arbor care professionals have been protecting the health of the trees throughout Southlake for over 25 years. Our ISA certified arborist, tree doctors, arborists that treat sick trees and specialized tree experts adhere to the high standards of excellence that the International Society of Arboriculture is known and respected for. If you have Ganoderma on your property, call (817) 697-2884 for a free consultation from a certified arborist in Southlake, TX.