Emerald Ash Borers Treatment in Southlake, TX.
White, green and black ash trees throughout Southlake are being ravaged by the lethal insect Emerald Ash Borer and certified arborists are continuously battling to stop this destructive beetle! Emerald ash borers destroy a tree in less than two years and over 200 million ash trees in the United States have succumbed to its infestation. These bright green beetles halt the tree's ability to disperse water and nutrients throughout its structure, rendering the tree an overall weak, sickly appearance. It is of extreme urgency to contact a tree care specialist immediately if you observe green beetles within your habitat grounds or notice your valuable ash tree is appearing weak and sickly. Emerald Ash Borers Treatment in Southlake, TX, call (817) 697-2884 for an Emerald Ash Borers diagnosing!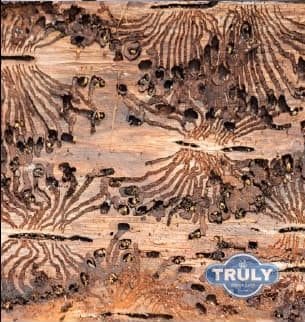 Emerald Ash Borers Treatment? Call Truly Arbor Care of Southlake!
Diagnosing Emerald Ash Borers Disease
The certified arborist expedites the diagnosis report by closely examining the tree and investigating the residential grounds. Early leaf loss, a noticeable thinning of the canopy and D-shaped markings in the bark are indicative of Emerald Ash Borer invasion. Woodpecker activity and beetle activity within the habitat environment are further confirmation of the deadly beetle's presence.  After studying the diagnostic findings the Southlake tree doctor determines the immediate treatment needed and personalizes the continuing maintenance and care plan necessary to eliminate this invasive insect.
Treatment Of Emerald Ash Borers
All infested trees, limbs, ground debris, and old oak firewood (if applicable) must be immediately removed and destroyed by an experienced tree company to prevent emerald ash borer reproduction and eliminate the insects from the habitat. Deep root fertilization administered by an arbor care expert is excellent in boosting the tree's root system and vitality, making the tree less likely to fall prey to insect pests and diseases. A one year warranty on any deep root fertilization treatment is provided. Insecticide applications such as trunk injections directed by a tree service professional target the beetles and protect the environment. Eliminate your fears of emerald ash borer destruction and entrust your eye-catching trees and residential outdoor environment to the best arborist in Southlake, Texas! If you have Emerald Ash Borers on your property, call (817) 697-2884 for a free consultation from a certified arborist in Southlake, TX.