Bacterial Slime Flux Treatment in Southlake, TX.
Is your tree leaking a slimy liquid that emits a rancid odor? These symptoms indicate bacterial slime flux disease. Although it is not a deadly tree disease, it is unsightly and the odor is intolerable. Call us today at (817) 697-2884 and receive a complimentary consultation with our ISA certified arborist. Bacterial Slime Flux Treatment in Southlake, TX, call (817) 697-2884 for an Bacterial Slime Flux diagnosing!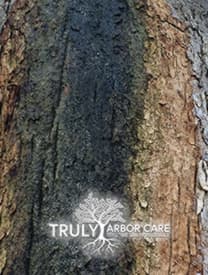 Bacterial Slime Flux Treatment? Call Truly Arbor Care of Southlake!
Diagnosing Bacterial Slime Flux Disease
Ash, oak, elm and cottonwood trees, as well as many other tree varieties that are popular in Southlake, are targeted by this bacterial tree nemesis. Bacterial slime flux disease tends to invade more mature trees that have suffered stress and have wounds or splits. The bacteria enters the tree through its wounds and feeds upon the tree's sap. This foul-smelling fermented sap begins oozing from the tree wounds, leaves streaks on the tree's bark and will kill grass and plants around the tree's baseline. Infected and damaged trees have a decreased resistance to other tree diseases and will exhibit premature defoliation, branches falling and a generally weak and ailing appearance.

It is of the utmost importance that the best arborist in Southlake, Texas be contacted to prevent your infected tree from contracting serious diseases and to ensure the health of your uninfected trees are protected. Guarding your trees against unintentional wounding and protecting their root structures is extremely important, and construction activities and regular lawn care maintenance should be overseen and directed by a tree care specialist. Regular professional cleaning of the slime leakage will minimize bark discoloration and aid in eliminating the strong stench. A tree care specialist will see to it that your trees remain healthy and free from unsightly tree diseases.
Treatment Of Bacterial Slime Flux
Truly Arbor Care is family-owned and locally operated and has been protecting the health of the beautiful trees in Southlake, Texas for over 25 years. Our highly-experienced tree care professionals adhere to the standards of honor, integrity, and excellence that the International Society of Arboriculture is respected for. If you have Bacterial Slime Flux on your property, call (817) 697-2884 for a free consultation from a certified arborist in Southlake, TX.